I'm a pretty big chicken when it comes to taking risks or putting myself out there. I've always been very sheltered in my life- always scared to try something new.
When starting this list, I kept referring to it as a "Bucket List", but once done I decided it wasn't just that. This is not a list of things I want to do before I die- but a list of things I want to do in order to really live.
This list is filled with only some of the things I have felt myself thinking about a lot lately. Adventures I need to take in order to feel like I could say, I had a lot of fun in my life and have no regrets.
Though I can maybe go on forever with thing's I'd love to try, here are 10 of the ones that came to mind first- as weird as they may be.
---
1. Ride a Mechanical Bull.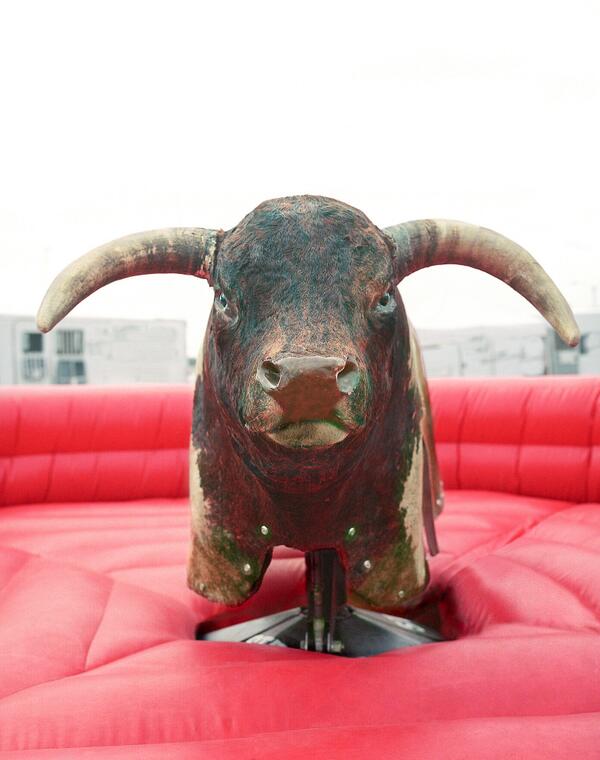 Though riding a Mechanical Bull is a pretty simple everyday thing you could do- this challenge for me is about more than just the act of riding the bull. I have stage fright and care probably way to much about how people see me and what they are thinking of me- so getting up on the bull and looking like a complete idiot is a pretty big step for me.
This adventure is more about learning to live care free and just enjoy the moment one small act at a time. Beating a few records about holding on long enough would be cool too.
2. Transform a Bus & Take a Road Trip.

Growing up, my favourite thing to do was taking our family road trips in our little mini-van to New York or Minnesota to see friends. Though not a far drive, it was always so much fun and a great way to bond with my parents and sister, and it is something I would do anything to get to do with my own future family one day.
My dream is to buy an old fully functioning bus, gut it and transform it into the most comfortable hangout possible. Insert a couch, a bed, some tables between two rows of seats and maybe a coffee maker if possible. Then I will take this beauty out on the road for summer vacation and travel from Toronto, through the states hitting California, Texas, and everything in between. It will be one of those amazing family bonding trips I grew up having where we will sing songs, play games, eat junk food and take the most beautiful pictures in the world while sitting in our awesome new ride.
3. Stay at Giraffe Manor.
There is this amazing manor in Kenya, Africa where you get to stay and interact with Giraffes and I believe warthogs. They stick their heads through the windows at meal times, into your bedroom window in the mornings, and roam the grounds looking to be fed. I am a huge lover of animals, and though scared of them when they're close enough to hurt me- I still love looking at them and having the ability to interact with them (once I warm up and get comfortable of course).
I think one of the many reasons I am not as afraid of traveling and staying here is because these giraffes are used to human interaction. They are domesticated in a way that I would like to hope they wouldn't hurt you. This way I get to see the beauty of Kenya, live around some of the most beautiful wildlife in the world, and face my fear of massive animals… However I still probably won't be seen taking any open jeep safari rides into the wild where a Lion can appear at any moment.
4. Fly in an Air Balloon. 
This little adventure is something I think everyone should experience at some point in their lives. It gives you the ability to fly up into the clouds and see what feels like the whole world under below your feet. It is romantic, adventurous and fairy tale like – especially with a nice bottle of wine and some chocolate covered strawberries. It is a way to fly without falling, and just breath in the clouds.
This adventure isn't a scary one or something life changing, but it does allow me to travel and try something that I simply just really want to do.
5. Attend a Royal Gala.
I have always dreamt of dressing up in some vintage couture, throwing on gorgeous jewelry, having my hair and makeup done and then spending my evening like royalty.
I am definitely not the type of person that will spend a lot on myself when it comes to designer clothing. I work very hard for every dollar I have so I am not about to spend it easily. But I still always have this dream of walking into a huge ballroom filled with the posh and proper and spending the night as one of them… My own cinderella story if you'd like. Now I am not looking to meet a prince and ride off at midnight in my magic pumpkin; but wouldn't it be so wonderful to walk into the room with all eyes on you and to just feel incredible and royal? Maybe thats just me, and its not as exciting and hallmark movie like as I am imagining it… But I'd like to experience it anyway and decide for myself.
6. Take A Picture in front of all the Important Historic Landmarks.
 Memories are everything to me, so I try to take as many pictures as I can- print them- and stick them into albums for the future generations to see… I like the think of this as: if theres no proof, did it really happen?
One of the main things I'd like to do in my life is have the ability to travel as much as I possibly can. See the world and photograph it so that one day I can look back and remember every adventure I have ever taken. Tell my life story through pictures pretty much.
7.  Sleep Under The Northern Lights.
I have always dreamt of traveling to Iceland and sleeping in one of those glass igloos where you can look up from your bed and see the Northern Lights above you. This is not some crazy adventure where I plan to fly above the clouds, or run with the wild. All I'd really like to do is sit there looking up in pure silence and just take it all in.
It seems so magical and surreal of a sight. The best way to really reflect on life, the universe, and everything in between.
8.Paragliding in Switzerland.
Paragliding is probably one of the scariest things on my list for me.It is a huge leap of faith (literally) taking those final steps off the side of a cliff. For someone who sucks at letting go of any form of control- this goes against everything and anything I am used to. That jump into the air- not having anything below your feet… It's mind blowing and well terrifying.
I know I'd never have the guts to jump face first out of a plane, but I'd like to think that one day I'll be brave enough to run off that cliff -with my eyes actually open and willing –and just spread my arms and fly. Best part for me- the entire time you are in a sitting position looking straight ahead into something amazing instead of down into the fast coming ground, and that I think I can brave myself to look forward to.
9. Send a Message in a Bottle and get a Response.
For anyone that knows me, I am a complete cheese-ball. If there is anything remotely romantic or heart warming about anything I want to be involved. So what is more serendipitous than sending a message in a bottle out into the world and actually getting a response?
Now I just have to find a way to keep the cheese in this idea, but make it a lot more Eco-friendly than throwing even more pollution into the ocean. Suggestions welcome please.
10. Start my own business. 
I've always had this pulling need to open my own little business where I can spend all my time in. It would of course be animal friendly so I can finally get myself a little puppy who will be running around greeting all the customers; it will have a nook section for my future kids to grow up in and play after school or before they even go off to daycare; and will give me something thats mine to grow from the bottom up. It will be a family oriented business where I plan to surround myself with everyone and everything I love.
Doing something like this though is absolutely terrifying because for me at least, I will be putting everything you have into it and there is a huge chance for failure. Many small businesses don't last the first year, let alone make any return on profit, so it is a risk and a huge leap of faith to trust yourself enough to make it work.